Kev Cook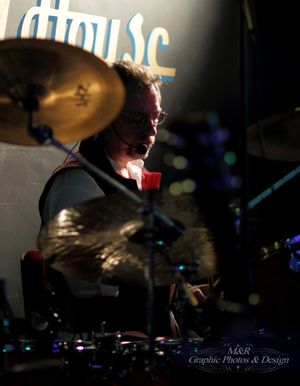 Name: Kevin Cook
Position: Central Defence(!) Drums, Percussion, Backing Vocal's, Bad Joke Dispenser
Instruments: : Gretsch Drums. Bosphorus Cymbals www.bosphoruscymbals.com Balbex Drumsticks www.balbexdrumsticks.co.uk,  No Nuts Cymbal Sleeves www.nonutspercussion.com
Musical Influences Apart from the bands I'm in. Genesis, Dave Matthews Band, Level 42, Runrig. Drummers include Steve Gadd, Jeff Porcaro, Iain Bayne, Phil Collins, Buddy Rich.
Favourite Book: Under Milk Wood. The Green Mile. The Hollow
Favourite Films: Love Actually, Play It Again Sam, The Green Mile, A Few Good Men, Churchill, Spinal Tap
Favourite TV series: Line of Duty, Unforgotten, Broadchurch, The Curse of Oak Island, Alan Partridge, Law and Order, (This'll show his age) Randall and Hopkirk (deceased)
Favourite cartoon character: Shaggy from Scooby Doo, Minion Kevin (Obviously), Joe 90 (Mainly because that used to be his nickname at school!)
Musical Background
Kev took up drums in his teens purely for fun (And because, naively, he thought you didn't have to read music to play them!!). He played for his own pleasure and to other people's extreme annoyance, generally the neighbours in the flats they lived in. He footled around with the drums, playing the odd amateur panto and cabaret, but didn't really start gigging and taking it a little more seriously until 1996. In 2004 he made the giant leap into becoming a professional drummer. Since then, he has toured Denmark, the UK and worked on a Caribbean cruise ship. He has recorded numerous CDs with originals bands which is where his heart lies. But he loves playing covers too, emulating his musical and drumming heroes. He has learnt from all his experiences, and continues to learn, always on the lookout for new music, new grooves, and new drummers .  .  .  .  .  Always looking. For him it's all about the song, and what he can do to enrich and enhance it..