Name: Andy Borders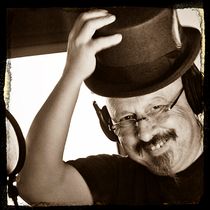 Position: Basses, BVs
Instruments: Overwater 4 string bass, Fylde 6 and 5 string electro acoustic guitars, Wav 4 double bass, OLP 5 String, T.C. Electronic digital bass amp, Roland effects units.
Musical Influences: Pink Floyd, Fairport Convention, Stanley Clarke, Shpongle, Parliament, Afro Celt Sound System, Jaco Patorius, Stevie Ray Vaughan, Oysterband, John Martyn, Horslips, Peatbog Faeries, Gong, The Chieftains.
Favourite Book: Elidor, The Weird Stone of Brisingamen, Why be Happy When You Can Be Normal, Beegu, any Terry Pratchett, Mr Big, Lord of the Rings, Valve Amps and How to Build Them plus many others too numerous to mention.
Favourite Films: Blade Runner, Silent Running, Close Encounters, The Titfield Thunderbolt, Koyaanisqatsi, anything by Pixar, Pulp Fiction.
Favourite TV series: YUK - TV what's that? Radio please and in that case Hitch Hikers Guide to the Galaxy or The Archers.
Favourite cartoon character: Snoopy or the Fabulous Furry Freak Brothers.
Musical Background
Andy "The Moose" was born at an early age, even then he displayed an unerring natural talent for producing low frequency sounds. During his formative years Blues, Folk and Prog Rock were keen favourites and influences. Brought up within the environs of the northern dark satanic mills, (alright to be honest, North East Cheshire but that doesn't have the same ring about it) he naturally gravitated towards the playing Blues with its themes of lost love, struggling through adversity, social comment and other things too naughty to mention.
He joined the Harpbreakers, a band which was at the fore front of the blues boom in Manchester in the 1980s. They played no nonsense authentic Chicago style blues when many other bands around were still following the British blues rock format. They were quickly recognised and became regulars at the majority of the Blues festivals in the UK, both on their own and as the backing band for many a visiting American Blues artist. They gained national exposure through a session on Paul Jones Radio 2 Blues programme.
Following a stint with a Stevie Ray Vaughan Tribute band , Andy moved to the Isle of Man where he played for numerous bands on the Island, soon becoming one of the busiest bass players there, playing everything from traditional Irish folk, Blues, Rock , Egyptian Calypso Reggae, Klezmer and much more. Whilst on the Island he formed his long lasting friendship with Doc, with whom he set up the first 'Big Wheel Blues Festival' in Laxey, now an annual event. During this period Andy and Doc joint hosted a national radio show showcasing local bands and musicians. On leaving the Island and relocating to Cornwall Andy played with a variety of bands such as Wammajamma, Finding Adam, as well as an assortment of covers bands.
Andy likes really good coffee, respect for other's faith, politeness, random acts of kindness, being challenged to review his perspectives, discovering new music, art, his cat, climbing into a bed with freshly laundered sheets, Real World Studios, and dislikes the smoke and mirrors of government, irrespective of party; corporate rubbish in all its forms, the way his laptop track pad sends his typing randomly all over the page, ill manners, intolerance, sprouts. The loves of his life are his partner Pam, his children and Love Street.