Name: Jules Clark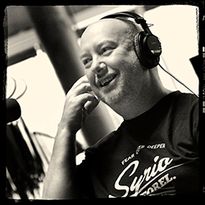 Position: Lead Vocals, Keyboards, Mandolins and Bouzouki
Instruments and Gear: Roland 300 NX Stage Piano, Nord Electro 3 Piano/Organ, Korg V3 Trinity, Yamaha W7, Ozark Bouzouki, Blue Moon Bouzouki, Paul Hathway Mandolin, Resonator Mandolin, Paul Hathway Mandola, Paul Hathway Appalachian Dulcimer, Various Percussion, Fender, Roland and Marshall amplification, Sure Microphones.
Musical Influences: Queen, Hendrix, Pink Floyd, BB King, Counting Crows, Robert Cray, Deacon Blue, Prefab Sprout, Elbow, Thin Lizzy, Gallagher and Lyle, Led Zeppelin, Peter Gabriel, Genesis, virtually everything on the Motown and Philadelphia labels.
Favourite Book: Lord of the Rings
Favourite Film: What Dreams May Come (See the 'Dreams' page) 
Favourite TV series: Star Trek and Spooks
Favourite cartoon character: Totoro
Musical Background
Jules started singing along to his brothers LP collection from the age of 7. He then sang in church choirs missing out on the opportunity of a scholarship to go to Lincoln Cathedral School due to his parents reluctance to let him leave home. He continued singing and playing piano and organ in the local church prior to joining his brothers band "Steel City" as keyboard player at the age of 13 playing pubs and clubs across the Midlands, North and North East England and Scotland.
Having read Law at Kingston University he left England to work in Greece and Turkey returning in 1990 to Newcastle where he formed "Percy Screams" (named after a mis heard "Paddy McAloon" lyric). On the break up of Percy he formed the "JJ Clark Band" where he was to meet his life long friend and musical partner Chris Johnson (Drums). JJCB had some success both in the North East and London signing to a minor management company associated with "Shakespears Sister" and playing on the same bill as artists such as "Mike and The Mechanics". They also recorded a four track EP at "Palladium Studios" Edinburgh, which included an early version of "Elliemae" and was produced and engineered by John Turner who had previously worked with bands such as "Capercaillie" and the "Cocteau Twins".
Following a spectacular Commitments esk breakup Jules formed a patch up version of the JJ Clark Band only comprising of Lisa Pallister (Sax) and Chris Johnson (Drums) but the patch up was no replacement for the real thing and following a short stint in Europe the band folded. On return to the UK Jules formed a covers band that went on to play the ships and international hotel circuit including a year in Beijing. That line up also included Lisa Pallister (Sax), Chris Johnson (Drums) and Chesterfield guitarist Steve Tingay. In 1997 that band also came to an end by mutual agreement and all the members went their own way.
Jules continued with music, now back in London lead singing with soul band "Soul Traders" and RnB band "80 Stone O Boogie". Immediately prior to forming "Love Street" Jules played with London covers band "Crocodile Thong" and funk outfit "Dr. Funkenstein & The Chapel of Soul" together with John Davies (Guitars).